Introducing Breanna: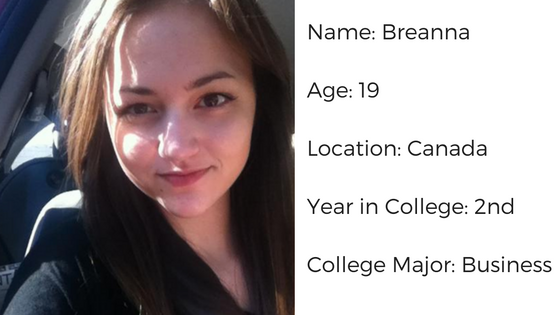 Hesitations about working with me: I must admit, I didn't think it would be that beneficial to me and that I could just find the information Clarissa teaches on Youtube or a blog.  Another thing was the price. To me, it seemed overly expensive for what you get.
Grades Before Rock@College: C's
Grades After Rock@College: B's and A's
"After my session with Clarissa I feel it was definitely worth the investment for me." -Breanna
In high school, Breanna was an honor roll student who did most of her studying the night before exams. She was excited to start college and assumed she would pass her classes with flying colors like she did in high school.
Upon her first semester in college, she learned the hard way that cramming the night before does not guarantee A's like it did in high school. She spent most of her time stressed out and constantly busy with no free time to do anything else. She virtually had no social life. Because of her grades, she began to think there was something wrong with her. Maybe she just wasn't smart like everyone else in her class. Her self-confidence in regards to her academics was plummeting. 
The Thing Breanna Was Struggling With The Most:
When Breanna and I started working together she was struggling with taking notes for her classes. Like a lot of students, she thought that a magical way to color code and organize her notes would guarantee her A's. As a result, her notes were in many different weird formats that didn't make sense to her by the end of the semester. Another major hurdle for Breanna's learning experience was the fact that she has severe hearing loss. Not having the proper study systems in place on top of her disability was a recipe for disaster.
Breanna's Note Taking and Study Process Before Our Sessions:
Step one: Read the textbook chapter front to back like a novel.
Step two: Debate whether going to lecture or seminar (support sessions) would be worth it.
Step three: If I did attend the class, I would not ask any questions or clarify any confusions. Instead, I would write my notes passively.
Step four: Shove the class and reading notes in my bag and call it a week. Yes, a week. I would not do anything else for that class unless there was a deadline coming up.
Step five: Scramble to find all my notes the night before the exam to study.
Step six: Study. But not really. I would glance at my notes over and over and keep rereading them hoping the material would be in my head for tomorrow morning's 8AM exam.
Step seven: Walk into the exam on 2 hours of sleep (because I was up all night cramming) thinking it would be a breeze.
Step Eight: Begin the exam. I would look over the questions completely confused because I swear we never covered any of this material in class or in the textbook.
Our Plan To Bring Up Breanna's Grades:
One of the things we knew Breanna needed to get better at was asking for help when she didn't understand the material. She was in the habit of not going to chat with her professor for fear of judgment.  

Breanna was also spending way too much time trying to perfect her notes visually, constantly trying out different note taking methods.  We worked together on quality over beauty when it came to note taking. Our focus was on making sure the notes Breanna took were written in a way that contained all the key information that would be asked on the test and organized in a way that made 100% sense to her when it came down to studying. 

Creating an exam study plan. As you noticed in Breanna's previous study plan, she was the queen of cramming. She rarely looked at her notes after she wrote them only to bring them out the night before the test. Breanna needed a system that would allow her to regularly review her notes, quiz herself on them and fill any gaps in her knowledge before the day of the exam. We worked together to teach her the quiz and recall method of studying and helped her create a sanity schedule.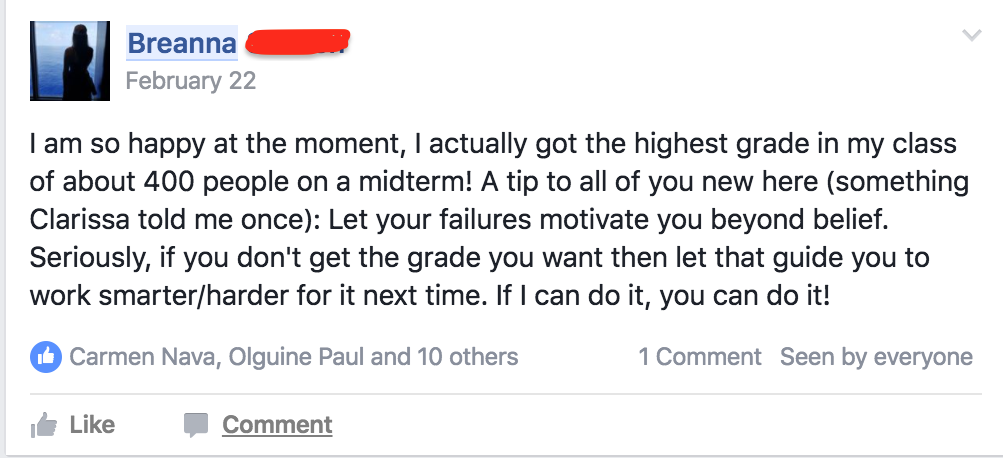 Breanna's New Note Taking and Study Process:
Step one: Prepare for class by reading any assigned material or previewing topics that will be covered in class.
Step two: I would go to class most of the time. I felt that some of the classes were not beneficial to me and used online resources instead. (Warning: Skipping class should not be taken lightly and deciding whether class will be beneficial is different for every school, course, and person).
Step three: Before the class starts, I spend 5 minutes previewing past notes. During class, I take notes based on what I think is important, the objectives, and the course outline. After class, I spend another 5-10 minutes reviewing the class notes and clarifying any confusions before heading home.
Step four: I will neatly store my notes and class handouts in a safe place until I get home where I will put notes into their corresponding class binders for easier reference later on.
Step five: I make a plan using the 'sanity system' coined by Clarissa for upcoming homework, exams, projects, and paper for the week.
Step six: When exam time rolls around, I know I have been regularly reviewing my notes and homework. So all I need to do is review and fill in any learning gaps. I know exactly where my notes are and how I am going to review them.
Step seven: I review by doing quiz and recall to find any learning gaps. Then according to my study system, I will close these learning gaps as soon as possible.
Step eight: The exam is still a day from now and I have finished studying. I use this time to do a practice final exam provided by the professor or to visit office hours to discuss any material that is still hard for me to understand.
Step nine: It is exam day and I am relaxed. I know I studied, reviewed, and prepared for this class well. I open the exam and preview it. Right off the bat, I know that I can do this successfully.

Breanna's College Experience After Working Together [In her own words]:
Right off the bat, I know I was less stressed out. I learned that all of the time I spent on researching note-taking systems was wasted since all I needed was a simple guideline which can be manipulated in any way that suits my style. It wasn't particularly the way I was writing notes that improved my grade, it was what I was writing in my notes that improved it. Now that I have study systems in place for university, my grades have jumped from C's to B's.
After my session with Clarissa I feel it was definitely worth the investment for me. Mainly because it gave me the right tools I needed in order to build a study system or routine that works well for me. But also because Clarissa gives you a lot of resources and support. She is able to individually assess your situation in college and work with you to find solutions to your academic problems with the Rock@College principles.
While you may be able to find some of the study tips in Rock@College elsewhere, it will not be consolidated and presented in a systematic package that can be applied to any academic situation like in the course.
I am switching to a new college since I determined the one I was previously enrolled in was not the best fit for me for reasons other than academic. I start at my new school soon and I am super excited and confident because I know that I am equipped with the tools and systems I need in order to do well in all kinds of courses.
Breanna's update since switching schools.